Something for Everyone on Your List
Over 450 hand-selected merchants with gifts for even those hard to please people. You'll find collectibles for Mom, a new game for Dad, nutcrackers for Uncle Ned, and one-of-a-kind jewelry for Aunt Jane. There's something for every taste and pocketbook.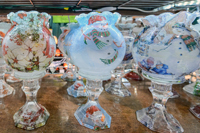 Handcrafted Treasures
Sculpture and watercolors, primitive and contemporary. Original art to browse, hand painted porcelain to hold. Carvings to admire, pottery to peruse. Professional artists from across the country bring quality and variety to brighten your holiday giving.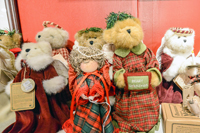 Toys, Puzzles and Pretty Things
Bring along Santa's list and check off gifts for children of all ages. Check off handmade heirlooms and stocking stuffers. Handmade rockers for little tikes and porcelain dolls for pretty girls. From gewhaw whimmy diddles to the latest gizmos, there's something to keep every boy and girl smiling Christmas morning.