A Kitchen Must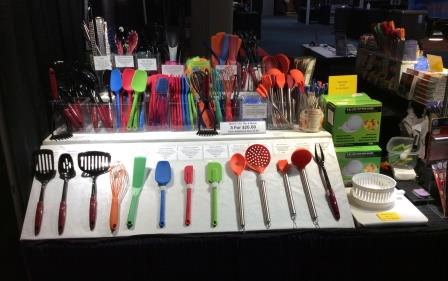 Booth: 2257
Quality Kitchen Gadgets & Utensils That Every Kitchen And Cook Need


Our silicone and nylon gadgets are high heat resistant, won't scratch your non stick cookware and will provide years of use.

COUPON: Free Gift with $25 Purchase. Mention Coupon to receive a free gift with your $25 purchase. One free gift per customer.

SHOW SPECIAL: 3 Kitchen Gadgets for $20. Additional items are $5 each. (Some exclusions apply.)

NEW PRODUCTS: THIN BINS (collapsible microwavable silicone containers) & SALAD MAKER.

We sell quality kitchen products which include: Julienne Peeler, Silicone & Nylon Gadgets (spatulas, whisks, tongs, basting brushes, scrapers, last drop spatulas, spoons, skimmers, pasta forks, ladles, baking mats, stretch lids, suction lids, thin bins), wavy cutter, chop & scoop, zester, onion holder, salad maker, non stick pans (toaster oven pans, muffin pans) and more.