Exhibitor Spotlight: Collective Goods CLT
We're excited to welcome Collective Goods CLT to the Southern Christmas Show, November 14-24 at The Park Expo and Conference Center with Preview Night on November 13. Before you visit this ALL NEW vendor in Booth #2716, enjoy our brief interview with owners Justin and Heather Frey.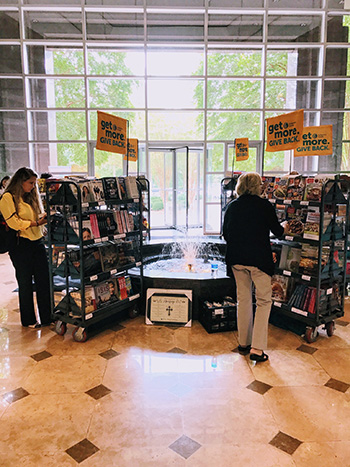 Please describe your products.
"Collective Goods is a pop-up retail event operating in the Carolinas. We are well known throughout the hospital industry for our fun and engaging book and gift fairs. For the Southern Christmas Show we will be bringing you our amazing book selection at discounted prices up to 75% off retail value! We carry a variety of categories such as Children's Books, Religious/Inspirational Books, Cookbooks and much more."
What are your best tips for the holiday season?
"Holidays are stressful enough even without last minute shopping...So be proactive and avoid overspending right before the holidays."
What are your featured items this season?
"BOOKS: the original handheld device! Save up to 75% retail! Don't miss out- get a free reusable tote bag with any purchase over $30!!!"
What's your best holiday shopping advice?
"Relax and enjoy the experience!"
What's your favorite part about participating in the Southern Christmas Show?
"This is our first year at the Southern Christmas Show. We are most excited for the opportunity to share the holiday tradition of shopping with Collective Goods!"
What's your favorite Christmas movie?
"Our favorite Christmas movie is definitely Home Alone!"
Is there anything else you think folks should know about your business?
"Collective Goods-Charlotte is a local, family run business out of Rock Hill, SC. The business was started by Justin and his wife Heather and they have two amazing boys, Channing(8) and Beckham(1)."
Don't miss your chance to shop hundreds of unique vendors, including Collective Goods CLT. Get your Southern Christmas Show tickets today!
Nov 4, 2019, 18:58 PM